The Chapel Chronicles
Creator: Emma T. Capps @EmmaTCapps
www.chapelchronicles.com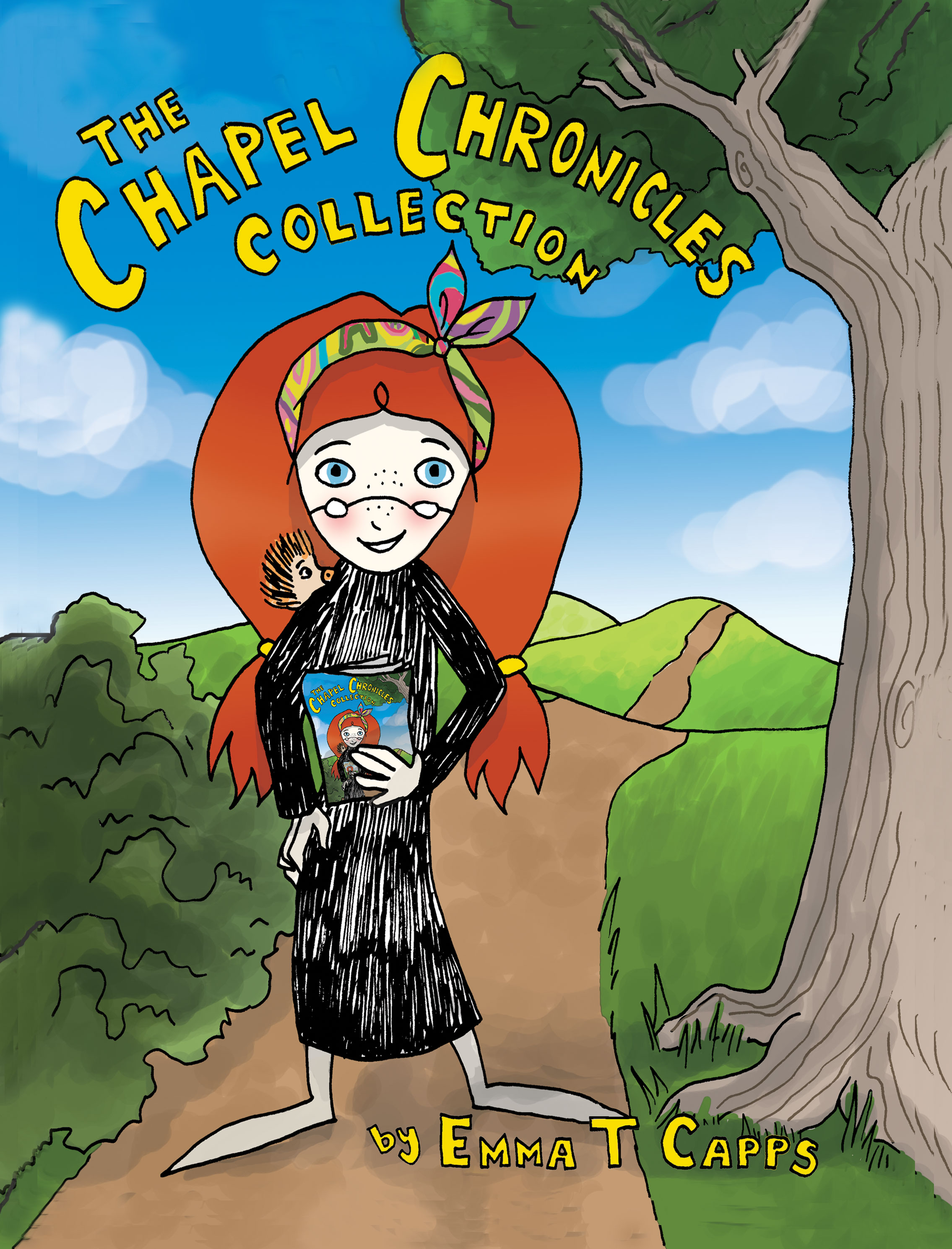 The Chapel Chronicles is a family-friendly webcomic with a lovely art style and quirky humor. The creator of this comic, Emma T. Capps, at only 15 years old, exhibits immense talent. She was generous enough to send me a printed comic of the first two seasons of The Chapel Chronicles, which can also be found at various comic book shops around the country. The most current season is displayed on the website. The Chapel Chronicles follows an 11-year-old girl, Chapel Smith, navigating her way through her pre-teens. Chapel is a well-rounded character with an adorable personality, which is emphasized by Emma's delightful artistic abilities.
In my first live interview, Emma and I had the chance to discuss her work on The Chapel Chronicles, as well as her further endeavors. Below, please enjoy some of the enjoyable conversation I was privileged to have with Emma.
Megan Markey: You're fairly young to be in the comic field- what sparked your interest in creating a webcomic?
Emma T Capps: Well, the Chapel Chronicles actually has a fairly long history — Chapel existed far before the webcomic iteration of the comic did. Back in 6th grade, I was randomly doodling one day and I suddenly drew the character that later turned into Chapel. I'd always loved comics and cartooning, but I tended to keep my writing and drawing separate. I started making homemade watercolor greeting cards of Chapel for various ocassions [sic], because my mother really liked her design. One Christmas I even made a book of a poem illustrated with drawings of Chapel as presents for my friends and family! When I was in 8th grade (I'm currently a sophmore [sic] in high school) my middle school, the Nueva School in Hillsborough, assigned all the 8th graders a project called the Recital Project, which had to last the entire year. I decided I wanted to expand my Chapel greeting cards into a full line of cards. This took about three months! The whole time, I would doodle quick comics of Chapel on the back of my school assignments and other random sheets of paper. Once I finished my line of 25+ greeting cards, I realized my year-long project had taken just a few months. I had always thought it would be fun to force myself to draw one of my cute Chapel comics every day for a month, so in March of 2011, I did just that! I drew one four-panel comic of Chapel everyday. At that time, I was also starting to read more webcomics and realized that putting comics online was in fact a viable way of getting readership. So I did just that with my initial 30 comics of Chapel, and it spiralled [sic] from there!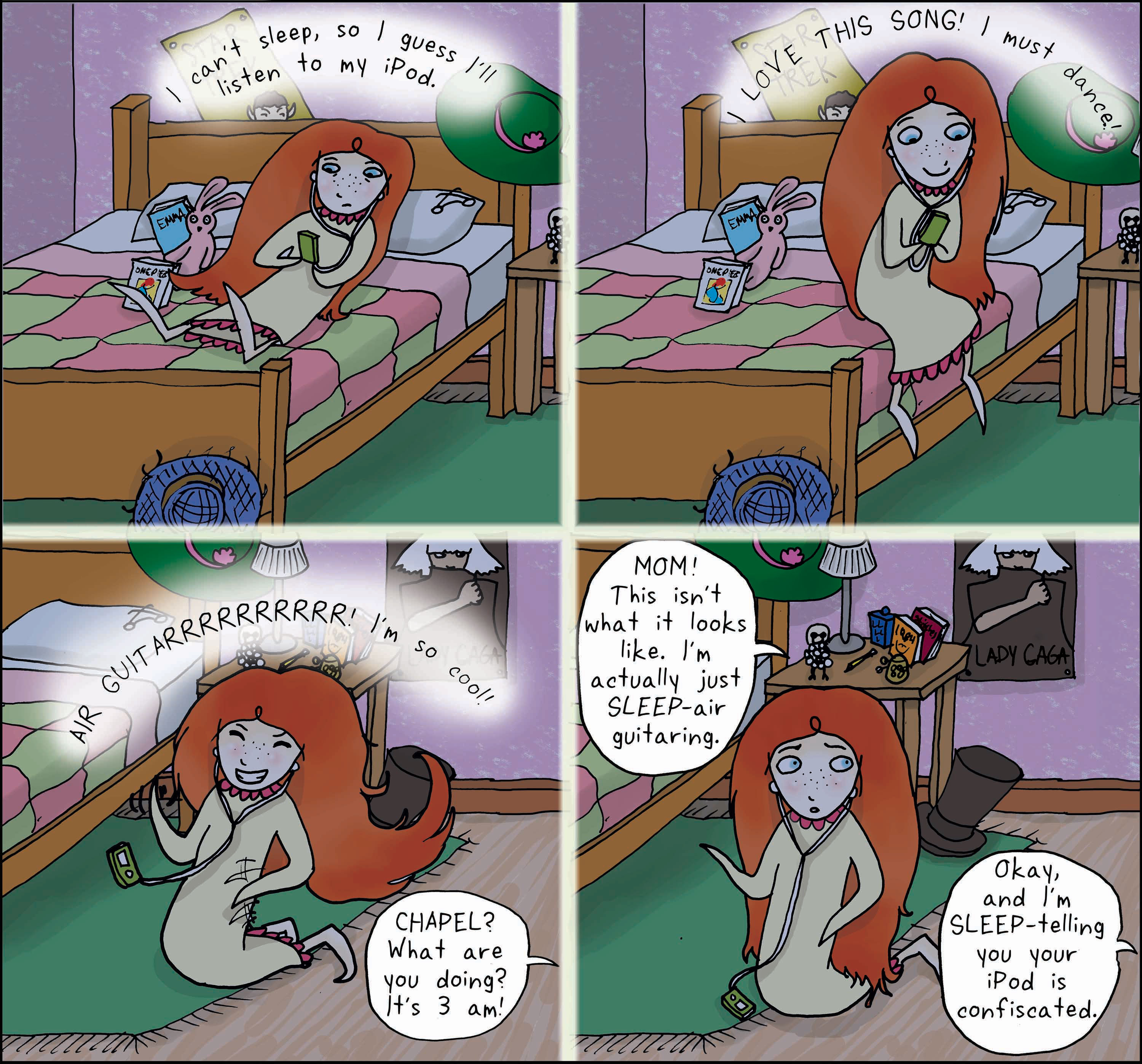 MM: That's actually a really inspiring story that your idea for greeting cards transformed into a successful webcomic and that you had the dedication to push yourself to create something truly unique! Now, Chapel, your main character, is a pre-teen girl with many adventures and misadventures. Is she an alter ego of yours or a completely original character?
EC: People always ask this question, and some people who I've met in person at conventions have even gone so far to mistake me for Chapel, when we don't even look alike! While Chapel and I share some similarities, we're not the same person at all. In order to make her daily trials and tribulations relatable, I'll take some slight inspiration from my life or my friends' lives. But Chapel's personal obsessions and character are quite different from my own. I don't want to make Chapel a comic about a teenage cartoonist, because that would be an autobio comic, which Chapel isn't meant to be! However, I do feel I'm uniquely qualified to write about a pre-teen girl's perspective on the world because I am only several years older than Chapel. So my answer is that while I do take some indirect inspiration from real life for Chapel, we are in reality very different people — I'm not obsessed with hats like Chapel is, nor do I like Lady Gaga!
MM: Haha, well you have answered my follow up question which was that [in] your printed Chapel Chronicles Collection you have really great anecdotal stories of your life. I was wondering how much of your inspiration for her came from real life incidences? Instead, how much time do you spend on character development for this comic? Do you sit down to write specific storylines, or do you jot down ideas as they come?
EC: You've asked a couple questions there so I'll go through and answer them! I already mentioned that I sometimes take slight inspiration for my comics from real-life occurrences, but I always twist or dramatize them so that the actual story and joke of the comic is very different from its inspiration. In my commentary, I always like to talk about my initial idea for the comic because I think it's fascinating to read books with commentary that give you as the reader a little insight into the author's process of creating the comic or narrative — it makes you feel closer to the author! Now, about character development. For a lot of the longer novels or comics I've scripted, which don't follow a weekly strip format, I always write out character sheets of information and do character development. With Chapel, I don't really need to do that, because I feel like as I've drawn the comic her character has grown organically along with mine. I actually see that in a lot of webcomics, and it's half the fun of reading them every week — you can see the characters and art style evolve right along with the progression of the comic! When it comes to planning out the stories, coming up with the idea is actually the easiest part of the process for me. I can sit down and come up with an idea for a comic whenever I need to, which is immensely helpful because it means I never get "writer's block." I do, however, plan out my comics ahead of time. I have a sketchbook where I draw quick "thumbnail" sketches of Chapel comics months ahead of time. While this isn't necessary, as I can come up with an idea with ease, I'm a bit of a perfectionist and like to plan things out ahead of time if I can. People always ask me if I have difficulty coming up with the ideas for Chapel (as the fear of "running out of ideas" is what deters a lot of people from starting a weekly comic) but the ideas flow so easily for me that I can sit down and thumbnail up to two dozen comic ideas in one sitting.
MM: Being able to draft ideas so easily is an incredible gift! […] Alright, onto art! There are several questions here- your drawing style is completely unique to any comics I've read. Do you hand draw/color your comics? Or are they created digitally?
EC: Wow, I'm so flattered that you think my art looks so unique, that's a wonderful compliment! As for process, mine is fairly straightforward — a combination of both traditional and digital. I sketch the comics on cheap printer paper with pencil, and the sketches are very disorganized. Unlike some of my more formal comics that aren't done in strip form, the Chapel sketches are very loose and messy. I don't sketch in dialogue and panel borders, just the backgrounds and Chapel. Then I ink on tracing paper, which for those who aren't aware, is a translucent type of paper that allows me to ink directly on top of the pencil sketches without destroying the original sketches themselves. I ink using fixed-width technical pens, specifically the Copic Multiliner line, in various widths. Then I scan! In Photoshop, I organize the images on a custom comics template I've put together. I letter digitally, using a font made out of my own handwriting. In the first season of Chapel, I did all the lettering by hand. But as the artwork on my comics has gotten more and more intricate, in order to spend less time lettering, I've switched to using a custom font. Once all the art and lettering is organized, I go through and color everything in Photoshop. This is the step of the process that takes the longest. Once I've colored everything, I then do several passes of revisions in order to catch any small mistakes. Then I write the commentary to go with the comic, and I've finished that week's installment of the Chapel Chronicles!
MM: I can imagine that lettering by hand must have been really time consuming! I love the font, by the way, it gives Chapel's already adorable personality even more character! [...] Are you a self-taught artist or have you had any training or formal art courses?
EC: The answer is a little bit of both! While my elementary/middle school was absolutely excellent, its arts classes were not very in-depth at all. So, up until I was 12, I taught myself almost everything! At the time, I was taking writing classes at a nonprofit writing and tutoring center, 826 Valencia, in San Francisco. I read they were offering a cartooning course, and since I loved to both draw and write, I thought it would be a great opportunity! The teacher, Dan Archer, was amazing. He taught a lot of fundamentals of cartooning, and I absolutely adored it. After the class, I began to take weekly lessons with Dan. Now that I'm homeschooled, taught by a hodgepodge of various tutors, Dan is my official art teacher. While my webcomic is a solo endeavour [sic] that his classes have very little effect on, he does have me do more formal life drawing drills and so on. Chapel doesn't intersect with Dan's teaching as much, but I do credit him and 826 Valencia for getting me started on comics. Because of that, I actually donated all the profits of my Chapel Chronicles Season 1 comic book to 826 Valencia, in order to fund their nonprofit tutoring in the arts for underpriveleged [sic] children who might otherwise not have access to it! I've now come full circle in that I now teach my own comics course at 826 Valencia for kids ages 8-11, very similar to the course I attended! I've taught three courses there so far and am coming back in October for a fourth.
MM: Wow, that is a very generous gesture and what an excellent opportunity to now be able to bestow your skill upon other youth. The Chapel Chronicles is already in print- do you exhibit your comics at different conventions? Do you sell The Chapel Chronicles in any comic shops?
EC: Yes, I do exhibit my comics at various conventions! Currently, I've exhibited at MoCCA Fest (Museum of Comic and Cartoon Art) in New York City twice, and APE (Alternative Press Expo) in my nearby city of San Francisco once! I plan to return to both this year, and possibly add Stumptown in Portland to my list, as I have several friends/colleagues who want me to attend and my grandmother lives there, so I could visit her in the process. There are several comics shops all over the country that are kind enough to carry the print versions of The Chapel Chronicles! They are: Fantastic Comics in Berkeley, California; Showcase Comics in Bryn Mawr, Pennsylvania; Chicago Comics in Chicago, Illinois; and Talbot's Toyland in San Mateo California!
MM: That's incredible! You have been very fortunate at such a young age, no doubt due to your talent, hard work and dedication! Lastly, where do you see the future of Chapel going? In essence, will you keep writing her storyline for as long as you feel inspired? […]
EC: I plan to keep on doing the weekly comic of Chapel for at least another year or so! While I could hypothetically keep doing Chapel forever, my focus is not on comic strips but on graphic novels. I'm currently scripting a full graphic novel entitled "The League of Fonts," and once I put myself on a schedule of actually drawing the pages, I will either have to build up a considerable backlog of Chapel comics or finish Chapel's storyline. Still, if all goes well, I'll continue doing Chapel comics until the end of high school. After that, I will have a good collection of Chapel books and be ready to move on to both college and my next projects with several years of Chapel already underneath my belt! I love doing The Chapel Chronicles and the entire community and readership that has built up around Chapel, and I'd like to continue it for a good while! After that, I hope that my current readers will be just as happy to see my next project(s) as I will be to work on them!
MM: I love that you have such strong aspirations. I'm sure that any future projects will be equally successful to Chapel and I really look forward to seeing more comics/graphic novels from you in the future! You are already quite accomplished at only 15, it will be wondeful to see what comes next for you! Do you have any last thoughts you would like to leave with the viewers?
EC: Hmm…let's see…well, often I will have young aspiring artists, writers, or cartoonists asking me for a bit of advice! I'd say my best catch-all advice to them, as corny as it may sound, is to just keep drawing! I'm constantly doodling on any scrap of paper I can find, and if you continue doing that, you'll improve at the speed of light! Also, for any would-be webcartoonists out there, I'd say to just jump in and start your comic. It can be very daunting at first to start a webcomic, but if you just start drawing and keep updating on a schedule, before you know it you will have created a book's worth (or more) of content! And above all, comics and art are supposed to be fun — so have a blast doing them!
MM: Excellent advice, Emma! Thank you for the opportunity to interview you. I'm sure the readers will enjoy the insight and facts just as much as I do. It was truly great to find out more about the author behind The Chapel Chronicles.
EC: Thank you so much for having me, it was a blast and I really enjoyed your eloquent and insightful questions!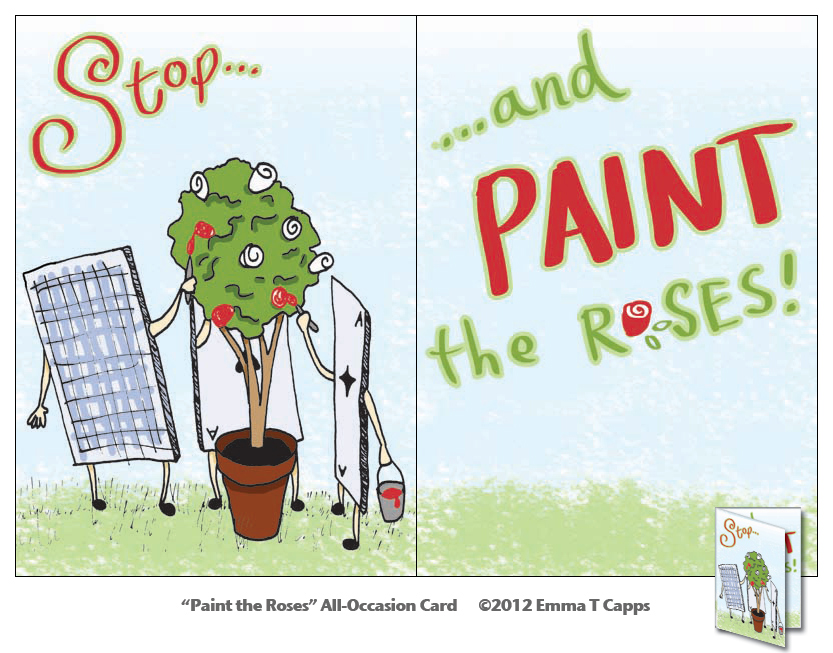 I thoroughly enjoyed speaking to Emma and learning about how she became involved in comics at such a young age. Her insight and advice are commendable, and I cannot wait to see what the future has in store for this young talent. I would definitely recommend bookmarking this beautiful webcomic! Also be sure to check out Emma's "store" on The Chapel Chronicles website to purchase printed copies of her comics, greeting cards, pins, and other awesome Chapel accessories!
As always, don't forget to follow the host of Webcomic of the Week, Megan Markey here: @megmarkey.